Web & Mobile Application Development Solutions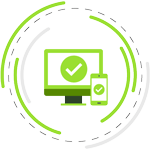 Modernize and enhance the functionality of IBM i applications
Modernize and expand the functionality of your IBM i (iSeries, AS/400) applications by developing new web and mobile apps or modernize your existing applications.
Give your traditional IBM i applications that are the bedrock of your business a user interface makeover. Build web or mobile apps to access critical business functionality in new ways. Integrate data and processes between systems and applications. Focus on enhancing your IT system to support how your business needs to function rather than fitting your business around how a solution works.
Application development solutions we provide
By working with Anykey you gain access to our wealth of industry knowledge and experience. We use LANSA products for custom software development so we can tailor a solution to meet your businesses specific needs.
Visual LANSA is a low-code development environment that gives you complete native integration with your IBM i applications. Code both client-side and server-side apps with the same IDE. Create new web apps with the power of low-code and deploy to an IBM i, Windows or cloud server.
RAMP is an incremental modernization approach that implements the best of refacing existing applications along with new development. Combine existing 5250 screens and new apps created in Visual LANSA into one web-enabled framework. RAMP replaces the hierarchical navigation of your current apps and adds new functionality to current 5250 screens, helping you to get the applications you want without throwing everything away.
aXes transforms traditional IBM i 5250 applications into GUI browser-based applications – without changing any lines of your source code. aXes will enable your 5250 applications to work securely and efficiently from browser-based devices. You can also change the default modernization rules to suit your specific needs and apply the changes automatically across all screens in the application.