Backup & Data Archiving Solutions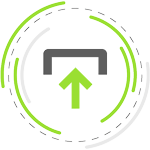 Increase data protection and ensure access to critical information
A robust server and data backup solution and process is a fundamental part of a business's high availability/disaster recovery plan. Meeting business and regulatory requirements for long term data retention whilst fulfilling growing data storage requirements can be at odds. Take control of fast-growing data requirements and improve your storage management and efficiency.
Backup and data archiving solutions we provide
By working with Anykey you gain access to our wealth of industry knowledge and experience. We will work with you to implement a backup solution to fit the unique needs of your business's disaster recovery and business continuity plan. Our data archiving and backup solutions use industry-leading hardware and software to help reduce storage and operational costs, protect data and speed data backup and recovery.
Cybernetics' Virtual Tape Libraries are designed to eliminate the challenges you face in archiving and protecting your valuable data. The units are incredibly easy to install, manage, scale, and will adapt as your network changes. Utilizing existing tape backup software, the iSAN VTL consolidates backup across any mix of operating systems with support for iSCSI, FC, SAS, and legacy SCSI host systems.
Lightning-fast backup and restore
Off-site replication even with limited bandwidth
Secure sensitive data with encryption
Servergraph helps identify and resolve problems before they affect your business. Running out of capacity can affect overall application availability and performance. Rockets Servergraph helps ensure that storage devices aren't the root cause of performance issues. It continuously monitors and forecasts storage usage across more than 30 different data protection environments and storage devices, including VTLs, schedulers, tape, and disks. A centralized console delivers comprehensive, end-to-end reporting of storage metrics by business unit, geography, or other key categories.
Identify and resolve backup problems fast with automated alerts
Get the right information at the right time to the right people
Make sure of compliance with regulations and internal SLAs and simplify audit preparations
The Scale Computing platform provides an extra level of data protection with a built-in disaster recovery option to protect your data and applications.
Scale computing data protection software includes:
Integrated VM-level snapshots can be used to recover entire VMs or individual files.
Replicate snapshots to another HC3 system for enhanced disaster recovery
Failover, failback and restore replicated snapshots for near-instant VM recovery
Optional cloud-based Disaster Recovery as a Service (DRaaS)
Acronis backup advanced for long-term retention and archiving